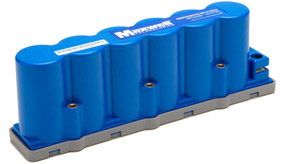 Maxwell Technologies' 16V small cell ultracapacitor module provides energy storage and power delivery in a compact, cost-effective module. The modules are specifically engineered to provide cost-effective solutions for wind turbine pitch control of 1.5MW and smaller, small UPS systems, telecommunications and other lighter-duty industrial electronics applications.
The 16V module is based upon the high-reliability, 350F radial D-Cell®. In addition to meeting or exceeding demanding industrial application requirements for both watt-hours of energy storage and watts of power delivery per kilogram, all of these products will perform reliably for more than 500,000 discharge-recharge cycles.
The modules can be series connected up to 750V and/or parallel connected for higher energy requirements. The easy-to-connect, standard module allows system designers to focus upon use of the power and energy, rather than on how to assemble cells.
Models
Applications
Wind turbine pitch control
Small UPS systems
Industrial applications (AGV, drones, robots)
Lighter-duty machinery
Features & Benefits
16V DC working voltage
Resistive cell balancing
Compact and lightweight package
Screw terminals
Improved high temp lifetime